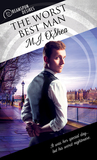 The Worst Best Man by M.J. O'Shea
My rating: 3 of 5 stars
Eight years ago, August was dumped by the love of his life right before graduating from Oxford. Now he's one of the best wedding planners in London and is tasked with planning the society wedding of his ex's best friend. Of course, some shenanigans ensue–though less than I expected–with the uber rich ex Christopher trying to win August back.
Part of Dreamspinner's Dreamspun Desires line (category romance), this was a light read. Short, too. But I realized it isn't really my cup of tea–not light reads, but this type in which the romance is almost too sweet.
What I liked and found impressive were the prose and the self-awareness in the book. The prose is transparent and clean, lending well to the telling of the story. The book is aware of its central conflict: the two main characters are from different social classes. It doesn't take itself too seriously. I liked these things so much that I checked out another book by O'Shea from the library.